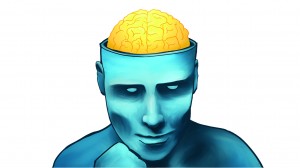 The University of Mississippi Conscious Thought and Thought About Consciousness Conference brought world-class philosophers and cognitive scientists to campus April 27-30, 2014.
Leaders in several fields, including philosophy and neuroscience, converged to promote cutting-edge work in hopes of creating better understanding of human and animal consciousness, its relation to the brain and how humans think about sentient beings, among other topics, said Donovan Wishon,  assistant professor of philosophy.
"What's particularly remarkable about this event is that it brought together scholars with vastly different views about consciousness, thought and the methods we should use to come to grips with the mind, its workings and its relation to physical reality," Wishon said. "What's more, the conference was intended to educate the students and the general public about how philosophy, and the humanities in general, can work side-by-side with the sciences to answer fundamental questions about who we are and what our place is in the world."
Conference organizers brought scientists of the highest distinction across the United States, United Kingdom, Canada and Australia.
"It's a wonderful collection," said Kenneth J. Sufka, professor of psychology and pharmacology and research professor at UM. "Never has there been anything like this in the state of Mississippi that brings an all-star cast of philosophers and scientists working on this problem of consciousness."
Bryan Harper, philosophy graduate student, was  impressed with the speakers' discussion on consciousness. "Some of the most brilliant minds in philosophy and neuroscience came to illuminate, wonder and debate about the subject here at Ole Miss," he said.
The UM departments of philosophy and religion, and psychology, and the university's College of Liberal Arts, the Office of the Provost, University Lecture Series and Office of Research and Sponsored Programs sponsored the conference with the Mississippi Humanities Council, Mississippi Philosophical Association and Mississippi State University Department of Philosophy and Religion.
Read the abstracts and other details about the conference.
All events were free and open to the public.