Group visited Italy as part of UM's Lazarus Project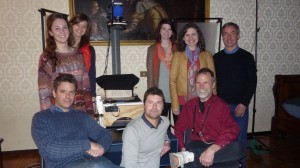 The Lazarus Project team in Vercelli, Italy. Photo by Mary Stanton
Four University of Mississippi students recently traded sunshine and relaxation for ancient manuscripts and the chance of a lifetime.
The three sophomores and one freshman, all students in the university's Sally McDonnell Barksdale Honors College, spent spring break in Vercelli, Italy, digitally mapping a 10th century text called the Vercelli manuscript as part of the Ole Miss Lazarus Project. The medieval text is one of four major works of Old English writings and includes sermons and poems such as "Dream of the Rood." The text was damaged by a 19th century attempt to use chemicals to make the faded text more legible, and the imaging the students performed will help restore some of that lost writing.
The team of young researchers and scholars are using multispectral images and ultraviolet light to study ancient manuscripts such as the Vercelli manuscript (10th century) and the Globe Map of Vercelli (late 12th century). Led by Gregory Heyworth, UM associate professor of English, the team photographs the manuscripts with a 50-megapixel camera, specially designed multispectral lights and filters, and specialized imaging software to recover portions of the text invisible to the naked eye.
"Working with these documents, it's unreal," said Leigh Anne Zook, a sophomore international studies and intelligence and security studies major from Huntsville, Ala. "These are priceless artifacts, and thinking of how few people have seen these, and the ones who have are experts in their fields, and me as a sophomore being able to work with these manuscripts – it's not even a trade-off, it's an absolutely wonderful experience."
Other sophomores were Eleanor Anthony, a mathematics and philosophy major from Jackson, and Elizabeth Wicks, a French and pharmacy major from Ocean Springs. Freshman Meredith Oliver, a pharmacy major from Collierville, Tenn., also participated.
While in Italy, the students also were able to assist in imaging a 12th century map of the world, or mappamundi, one of only 12 in existence.
Previously, the Lazarus Project took students to Washington, D.C., where they examined a possible William Shakespeare signature, and to Dresden, Germany, where their efforts revealed writing in another unique medieval manuscript, "Les Eschéz d'Amour" (The Chess of Love), a long 14th century Middle French poem thought until recently to have been too badly damaged during World War II to be recovered.
Since its inception, the Lazarus Project has used its portable multispectral lab to analyze several documents, including the Skipwith Revolutionary War Letters, which were donated to Ole Miss by Kate Skipwith and Mary Skipwith Buie, great-granddaughters of Gen. Nathanael Greene; and the Wynn Faulkner Poetry Collection, 48 pages of early poetry written by William Faulkner between 1917 and 1925 that were donated by Leila Clark Wynn and Douglas C. Wynn.
For more information, visit the Lazarus Project.