Professor of Philosophy
Chair of Philosophy and Religion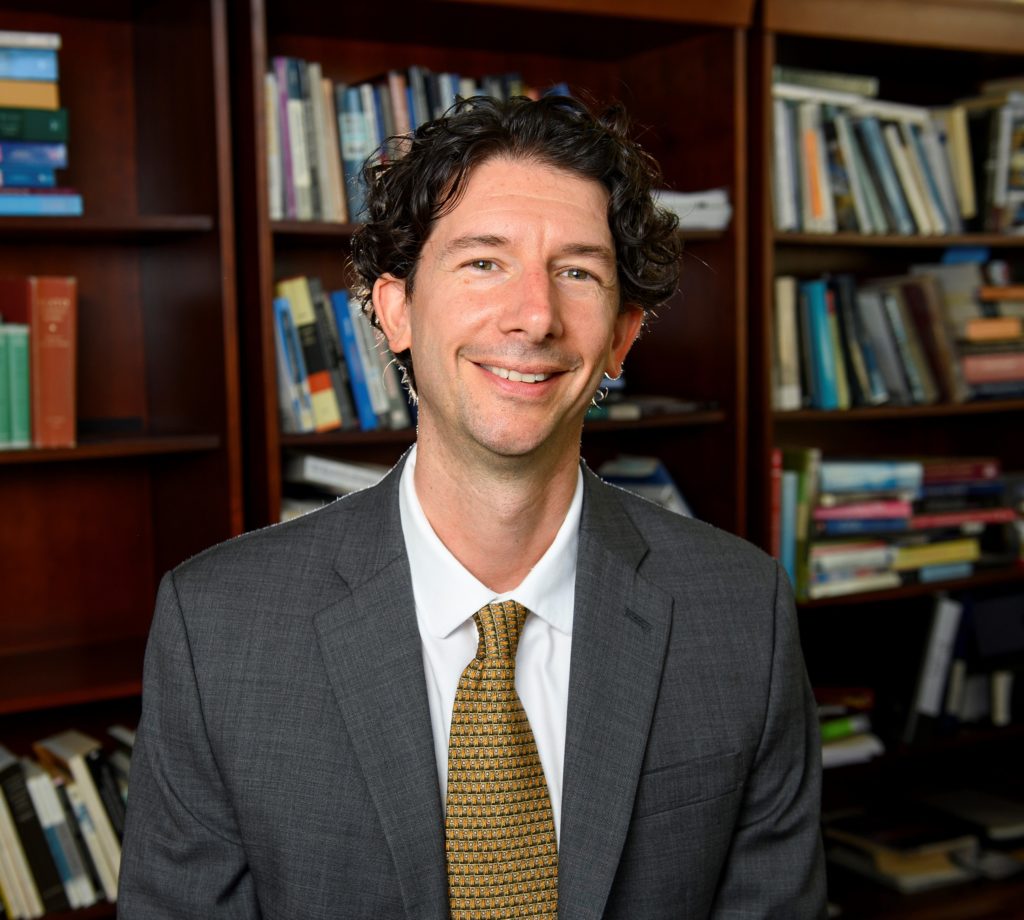 CONTACT INFORMATION
Steven Skultety
P.O. Box 1848
University, MS 38677-1848
Email:  skultety@olemiss.edu
Office:  100 Bryant Hall
Phone:  662-915-7020
PROFESSIONAL BACKGROUND
I received my B.A. in Philosophy from the University of Montana in 1999 and then began my Ph.D. at Northwestern University. In 2006 I successfully defended my dissertation and joined the faculty at the University of Mississippi.  In 2012 I became Associate Professor of Philosophy and Chair of the Department of Philosophy and Religion.  In 2020 I was promoted to Professor, and in 2021 became Director of the Declaration of Independence Center for the Study of American Freedom.
TEACHING AND COURSES OFFERED
Phil 101 Introduction to Philosophy
Phil 301 History of Philosophy I
Phil 311 Plato
Phil 313 Aristotle
Phil 330 History of Western Political Philosophy
Phil 372 Conservative Political Philosophy
Phil 401 Seminar in History of Ancient Philosophy
Recent topics of upper-division and graduate-level seminars: Aristotle's Political Philosophy, the Nicomachean Ethics, Virtue Ethics, Plato's Republic
RESEARCH
My research focuses on the way ancient philosophers understood human beings who were at odds with one another. Currently my work concentrates on Aristotle's political philosophy, but my long-term goal is to produce work that will track arguments about interpersonal conflict from the Presocratics to the Stoics. Outside of ancient philosophy, my research interests include virtue theory, republicanism, as well as democratic theory.
Books
Conflict in Aristotle's Political Philosophy (SUNY, 2019)
Review in Bryn Mawr Classical Review
Aristotle's Politics. Critical Essays. Richard Kraut and Steven Skultety eds. (Rowman & Littlefield, 2005)
Articles & Anthology Essays
"Aristotle on Virtue as Mean State: A Map or Legend of Ethical Terrain?" Ancient Philosophy 42 (2):493-508 (2022)
"The Humbling of an Impatient Cosmopolitan" in Dissident Philosophers, eds. Allan Hillman and Tully Borland (Rowman & Littlefield, forthcoming)
"A Neo-Aristotelian Theory of Political Honor" in Honor in the Modern World, Laurie Johnson and Daniel Demetriou eds. (Lexington, 2016) pp.89-108
"Revisiting Competitive Categories: A Reply to Royce"  Sports, Ethics & Philosophy Vol.9 No.1 (2015) pp.6-17
"Disputes of the Phronimoi: Can Aristotle's Best Citizens Disagree?" Ancient Philosophy Vol.32 (2012) pp. 105-124
"Categories of Competition" Sports, Ethics & Philosophy Vol.5 No.4 (2011) pp.433-46
"Aristotle's Oligarchs and the Origins of Misguided Elitism" in On Oligarchy: Ancient Lessons for Global Politics, Tabachnick and Koivukoski, eds. (Toronto, 2011) pp.90-109
"Delimiting Aristotle's Conception of Stasis in the Politics" Phronesis Vol.54 (2009) pp.346-370
"Competition in the Best of Cities: Agonism and Aristotle's Politics" Political Theory Vol. 37 No.1 (2009) pp.44-68
"Aristotle's Theory of Partisanship." Polis Vol. 25 No. 2 (2008) pp.208-232
"Currency, Trade, and Commerce in Plato's Laws." History of Political Thought Vol.27 No.2 (2006) pp.189-205
"Is 'Part of Justice' Just at All? Reconsidering Aristotle's Politics III.9." Society for Ancient Greek Philosophy Newsletter 6(4) (2005) pp. 24-34.  On-line at http://orb.binghamton.edu/sagp/383
Encyclopedia Articles
"Political Honor" entry for International Encyclopedia of Ethics, ed. Hugh LaFollette (in progress)
"Aristotle" entry for Wiley Blackwell Encyclopedia of Social Theory, ed. Bryan S. Turner (2017)
Book Reviews
Review of Aristotle's Politics: A Critical Guide, eds. Thornton Lockwood and Thanassis Samaras (Cambridge, 2015) for Journal of Hellenic Studies (forthcoming)
Review of George Duke's Aristotle and Law: The Politics of Nomos (Cambridge, 2020) for The Review of Politics Vol.83 #4 (forthcoming)
Review of The Cambridge Companion to Aristotle's Politics, ed. Marguerite Deslauriers and Pierre Destrée (Cambridge, 2013) for Polis Vol.32 #2 (2015)
Review of Javier Echeñique's Aristotle's Ethics and Moral Responsibility (Cambridge, 2012) for Ancient Philosophy 34 (2014)
Review of M.H. Hansen's Reflections on Aristotle's Politics (Museum Tusculanum, 2013) for The Classical Review (June 2014)
Review of the The Cambridge Companion to Ancient Greek Political Philosophy, ed. Stephen Salkever (Cambridge, 2009) for Notre Dame Philosophical Reviews (6-27-2010)
Review of G.E.R. Lloyd's Disciplines in the Making (Oxford, 2009) for The Review of Metaphysics (Sept, 2010)

Review of Ronna Burger's Aristotle's Dialogue with Socrates: On the Nicomachean Ethics (U. of Chicago, 2008) for Notre Dame Philosophical Reviews (1-11-2009)

Review of Ronald Weed's Aristotle on Stasis: A Moral Psychology of Political Conflict (Logos Verlag, 2007) for Bryn Mawr Classical Review (8-18-2008)

Review of Ryan Balot's Greek Political Thought (Blackwell, 2006) for Notre Dame Philosophical Reviews (6-16-2007)
Review of Jill Frank's A Democracy of Distinction: Aristotle and the Work of Politics (Chicago: University of Chicago, 2005) for Ethics Vol.116 No.2 (2006)