Philosophy and Religion Student Ambassadors
Garrison Gosling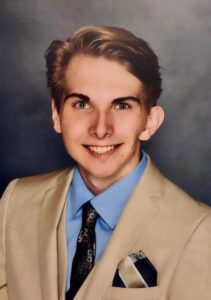 Why did you choose to attend UM?
I chose to attend the University of Mississippi for many reasons, but above all because of its fantastic philosophy program. The Philosophy Department at Ole Miss has everything that I wanted and needed to receive an excellent education in philosophy, and after discovering the department and learning more about it, I knew that Ole Miss was the school for me.
When and why did you choose your major(s)/minor(s)?
I have been passionate about philosophy since I was twelve years old. In my first two years of college before transferring to Ole Miss, I had no idea what I wanted to major in or do as a career. After praying and thinking about it a great deal though, a came to realize that I was called to be a philosophy professor, and therefore should pursue philosophy as my major. Along with philosophy I have a great passion for history, especially the history of ideas, which is what led me to choose history as my minor.
What would you tell a high school student about your major? What is most important for them to know if they're interested in pursuing that field of study?
I would tell a high school student that my major lets me study the most important questions that can possibly be asked. While pursuing my major I have been taught to think about issues in an extremely deep and complex way, and to never make assumptions when thinking about important issues. If they're interested in pursuing philosophy, the most important thing for them to know is what they plan on doing with their degree, as having a plan will be extremely beneficial to them.
Any particular support or encouragement you have received from a professor?
When researching Ole Miss as a potential school to pursue my degree, I contacted Dr. Skultety and asked if I could interview him to ask him some questions about both the school's philosophy program as well as the job of a professor. I expected this interview to just be through email, but Dr. Skultety offered to meet with me over the phone. Our conversation was spectacular. All my questions were answered, and I not only learned a great deal about the philosophy program at Ole Miss, but about my career choice and academia in general. After the conversation I knew both where I wanted to go to school, as well as how I should look at and approach my future career plans. It is because of that conversation that I have received the excellent education that I have at Ole Miss, and that I have a plan for how to achieve my career aspirations.
What has been one of your most memorable or enjoyable moments at UM?
I have had many enjoyable moments at UM, but my favorite moment was most definitely giving a presentation that I prepared last semester as part of a course I was taking sponsored by the Declaration of Independence Center for the Study of American Freedom. I gave my presentation in front of both an in-person audience as well as one on Zoom. It was the first real academic presentation that I have ever given, and I absolutely loved it. I loved doing the research, making the presentation, and above all actually delivering my short lecture and answering questions about it after. I had an absolute blast and would love to do something similar in the near future.
What do you hope to do after you graduate? What are your career goals/ plans for postgraduation?
After graduating I hope to continue my studies in philosophy by pursuing my master's degree at Ole Miss and eventually going on to pursue my PhD. My career goal is to one day become a philosophy professor at a school of the same caliber as Ole Miss.
Apart from school, how do you spend your time in Oxford? What are your hobbies, favorite places to go, etc.?
When I am not doing school related activities, I love to just enjoy our beautiful Ole Miss campus and the town of Oxford itself. I especially enjoy finding and visiting different local historical sites and going out to eat at nice restaurants like Ajax.
What is one thing you wish you knew as an incoming freshman that you'd tell your past self (about the general college experience)?
One thing that I wish I knew as an incoming college freshman is just how quickly time flies during a school semester. It seems like a long time away when a project is due in one month, but those four weeks go by extremely fast, so it's best to start doing your work early.
James Polk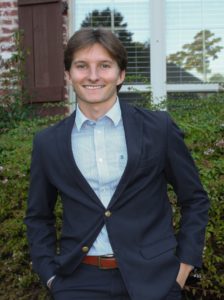 James is majoring in Philosophy and minoring in Psychology and Chemistry. He is a member of he Columns Society and the Lambda Sigma Honor Society. In his free time, he volunteers at the Jackson Free Clinic. He is Pre-Med and has goals of becoming an Interventional Cardiologist or Family Medicine doctor. 
Why did you choose to attend UM?

I chose to come to the University of Mississippi first and foremost for academics. Secondly, I wanted to come to a university that was the forefront for progress in the state of Mississippi. As the flagship university of the state, the future happens at UM and to be apart of the community that is shaping the state of Mississippi is something special.
When and why did you choose your major(s)/minors?
I was originally a psychology major. However, at the beginning of my sophomore year, I began to miss critically thinking, writing, and discussing complex topics in class. Moreover, I realized that I liked the philosophical implications of psychology more than the science of human behavior itself. A philosophy major, with small classes and great professors, allows me to learn not only about philosophy itself, but about ways in which to lead a good life.
What are your career goals?
I want to go to medical school and one day either become an Interventional Cardiologist or a Family Medicine Doctor. In fact, what drew me to medicine was philosophy. I saw that physicians, and those in the larger health care field, devoted their lives to helping those in need. They are, everyday, limiting the suffering of others – something I see as noble and exciting.
What would you tell a high school student about your major? What is most important for them to know if they're interested in pursuing that field of study?
Philosophy as a major at UM is small, your classroom size will not be overwhelming, with the excepting of philosophy 101. Secondly, philosophy is not only contained in the walls of a school, laboratory, or office; philosophy deals with how to lead a good and meaningful life and so forth. So, when you get a philosophy degree, it one of the most useful degrees and one of the most beneficial degrees you can earn for yourself. Moreover, as my professor once said, employers will also want to higher those who can critically think.
Can you tell me about a professor or a class you've taken that has had the most impact on you?
My second-semester writing professor, Mr. James Thomas, had a huge impact on me. His willingness to talk after class, give constructive feedback, and his efforts to ensure we understood the material, yielded a great learning environment with motivated students. The topics we wrote on were always engaging and exciting. He always had clear times when we could meet him outside of class as well.
What do you like to do outside of school (hobbies, interests)?
I am involved in many clubs and societies around campus. I enjoy playing playing pickle ball, disc golf, and working out. When I am not studying or doing some activity I enjoy just hanging out and talking with my friends.
What is one thing you wish you knew as an incoming freshman that you'd tell your past self (about the general college experience)?
I would tell myself that it is okay. To be stressed and anxious simply means that you are going through Freshman year the right way. It is important to keep a balance in all things, especially college. You need to study hard but you also need to enjoy the unique life that you are about to lead.