How to Apply to the MA Program in Philosophy
REQUIREMENTS
Normally, a philosophy major or at least 18 hours of undergraduate philosophy courses are a prerequisite to doing graduate work in our department. However, we can work out a special program for students whose interest in philosophy developed late and who do not have the minimum number of hours.  The graduate advisor will work with the student to determine what courses are necessary to provide an adequate background for doing graduate work.
DEADLINES
We have a rolling admissions policy and will consider applications at any time during the year. Admitted students are eligible for a limited number of Teaching Assistantships awarded by the philosophy department on a competitive basis. These Assistantships include a full tuition waiver, low-cost health insurance, and a stipend that is competitive with those of other MA programs in philosophy. To maximize chances for such funding, prospective students should apply by MARCH 15th. However, students are encouraged to apply sooner, if possible, as early funding offers may be made in rare cases. Moreover, admitted students are also eligible for some university-wide Graduate Assistantships which can have earlier deadlines.
APPLY
To begin the admissions process, you should obtain and complete an application at Graduate School Admissions.  We also recommend that students submit with their application: (a) two letters of recommendation, and (b) one sample of philosophical writing.
If you have further inquiries about the graduate program in philosophy you may contact: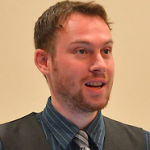 Dr. Donovan Wishon
Director of Graduate Studies and Associate Professor of Philosophy
Department of Philosophy and Religion
015 Bryant Hall
University, MS 38677-1848
(662) 915-7020 | dwishon@olemiss.edu