How to Apply to the MA Program in Philosophy
ADDMISSION REQUIREMENTS
Evidence of an awarded baccalaureate degree from an accredited college or university.
An academic record that includes either successful completion of two undergraduate philosophy classes, or at least a 3.0 or equivalent grade-point average on the last 60 hours of undergraduate coursework.
Two (2) letters of professional recommendation, preferably from professors familiar with your academic qualifications or others familiar with your work ethic and ability to be successful in graduate school.
A sample of your recent written work that best showcases your skills as a writer and critical thinker. Writing samples should be in English and no more than 30 double-spaced pages in length. There are no specific formatting requirements. This could be a term paper, professional report, policy brief, or any other document that demonstrates language, writing, and analytic skills.
International students must demonstrate compliance with the University of Mississippi's English Language Proficiency Score Requirements and Exemptions policy.
DEADLINES
We have a rolling admissions policy and will consider applications at any time during the year. Admitted students are eligible for a limited number of Teaching Assistantships awarded by the philosophy department on a competitive basis. These Assistantships include a full tuition waiver, low-cost health insurance, and a stipend that is competitive with those of other MA programs in philosophy. To maximize chances for such funding, prospective students should apply by MARCH 15th. However, students are encouraged to apply sooner, if possible, as early funding offers may be made in rare cases. Moreover, admitted students are also eligible for some university-wide Graduate Assistantships which can have earlier deadlines.
APPLY
To begin the admissions process, you should obtain and complete an application at Graduate School Admissions.
If you have further inquiries about the graduate program in philosophy you may contact: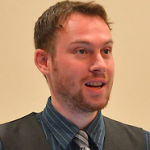 Dr. Donovan Wishon
Director of Graduate Studies and Associate Professor of Philosophy
Department of Philosophy and Religion
015 Bryant Hall
University, MS 38677-1848
(662) 915-7020 | dwishon@olemiss.edu